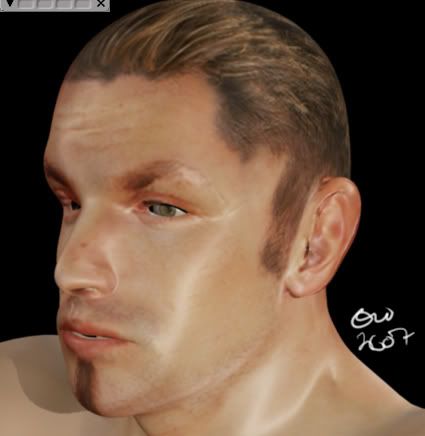 Alrighty back into action. I had a nice brake but its time to get back to work while I am searching for work on the coast. My hope is to finish this guy within the next couple of weeks while I work my current job at a warehouse and apply for jobs within the industry.
Anyways enough of a recap of were I'm at. At the moment I am only focusing on the face's defuse so the specular is a little daughnting but will be fixed in the near future. Thinks that adding a texture helped me see is that I need to fix the meshing around the eyes. There is large black space and for anywone thats a no, no. There is stretching in the ears and other areas besides the hair(which will be left as is). As soon as I get the difuse working to what I want I'll be adding grids for the hair. I was considering doing hair particals but I want to cut down on render time and I've seen some realy cool grid hair that worked in Dominance War this year and I want to see if I can get the same effect.
I'll keep ya posted.